Subaru South Tampa is a proud partner of Southeastern Guide Dogs. This organization serves two purposes: to provide the visually impaired with thoroughly trained guide dogs and to provide veterans who have PTSD with service animals. Take a moment to learn about the work that Southeastern Guide Dogs does and how you can team up with Subaru South Tampa to support this noble organization.
Southeastern Guide Dogs: A Vital Mission
Southeastern Guide Dogs adopts, raises, and trains guide and service dogs. We then home guide dogs with our visually impaired neighbors throughout Town N' Country, St. Petersburg, and Tampa. We also provide service animals to veterans who are suffering from PTSD, as well as grieving family members who have lost a loved one in war.
When you donate to Southeastern Guide Dogs, your dollars go towards three things: research, training, and homing. 
Research: Southeastern Guide Dogs performs extensive genetic research to determine how to breed the most effective guide and service dogs possible. 
Training: All of their dogs receive two years of intensive training before they're homed. 
Homing: When we place a highly skilled dog with a visually impaired person, veteran, or grieving family member, they make sure that the right dog is connected with the right person. Their clients spend several weeks at our training facility, so they can train with their new guide dog, and your dollars make this possible. 
How Does Subaru South Tampa Help? 
On May 2nd, 2023, Ed Moran, Danny Cannon, Dave Mulder, Joe Anglada, Dimitri Charalambakis, Deidre Kristinsson, Linda Cannon, Matt Adkins, Will Kuhlman of Myers Auto Group Subaru South Tampa, Subaru Lakeland and Subaru North Orlando joined Andy Kramer, Vice President of Philanthropy for Southeastern Guide Dogs, Francis Molinaro, Director Philanthropy and area SEGD Puppy Raisers to accept a donation check for $89,395.
Over the last 13 years, through the Subaru Share the Love Event, Subaru of America Inc. and its participating retailers have donated more than $200 million to charity, with customers choosing between four national charities and over 1,610 hometown charities. Subaru South Tampa, Subaru North Orlando, and Subaru Lakeland have donated nearly $500,000 combined over the last few years alone.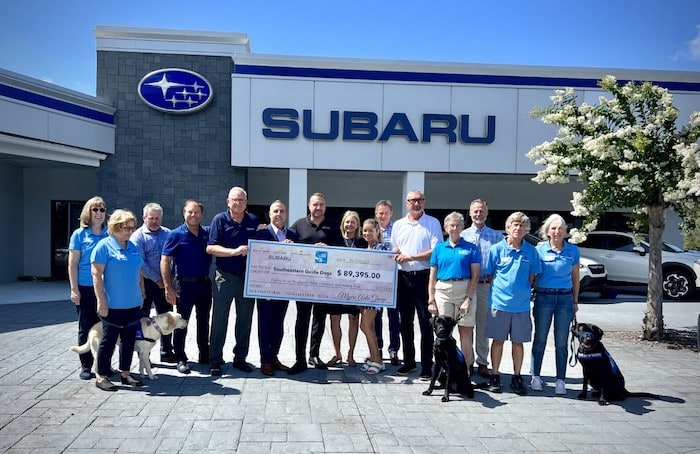 How Can You Get Involved? 
Swing by the showroom at Subaru South Tampa. You can donate to our "Superheroes on Parade" fundraiser. Just drop your donation in the bowl by the "Superhero" (you'll know what we mean when you see it). Our address is 6402 W Hillsborough Ave. Tampa, FL 33634. You can also donate to Southeastern Guide Dogs directly!
Have Questions About Southeastern Guide Dogs? 
If you have any questions about how you can partner with Subaru South Tampa to support Southeastern Guide Dogs, give us a call at 866-941-2206 or contact us online. In the meantime, take a moment to explore our Subaru research guides to learn more about the latest Subaru model lineup!
Make an Inquiry
* Indicates a required field